Specfication
PD2.0 input&output/wireless Fast charging

Model:Power MINT 8000
Size:162mm x76mm x12mm
Capacity:3.7V/8000mAh,29/.6WH
Battery: UL certification high density lithium polymer batteries


Out Put 1:5V/3A,9V/2A,12V1.5A(USB QC OUTPUT)
type-C PD input&output:5V/3A,9V/2A,15V/2A,20V/1.5A(MAX)
wireless Fast charging Output: 10W/7.5W
input:5V/2A,9V/2A(micro USB)
Charging time:3 hours

Net Weight:191G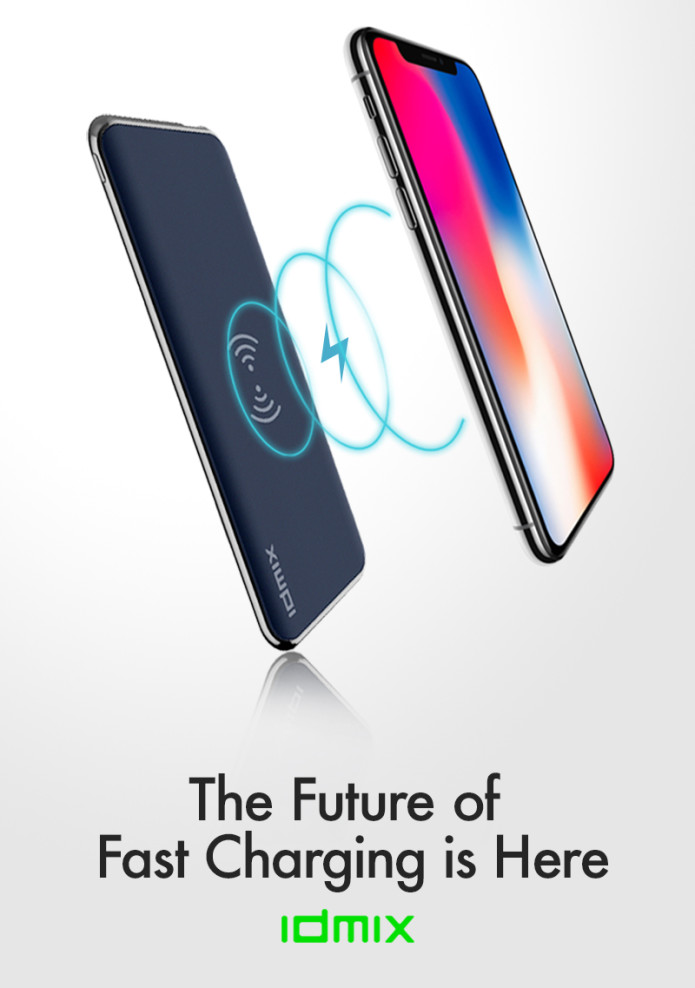 Enjoy the peace of mind of never seeing "Low Battery" on your phone ever again. IDMIX is the world's fastest charging wired and wireless power bank. Offering you two versions for all your needs, either in a 8000mAh or 18,000mAh capacity to keep your devices fully charged. Made to be both a Fast Charging Station as well as a Wireless and portable power bank, it is the solution to all of your battery needs.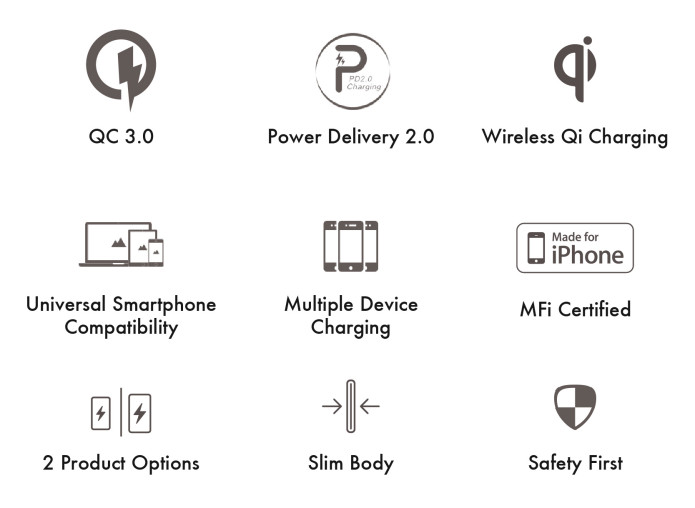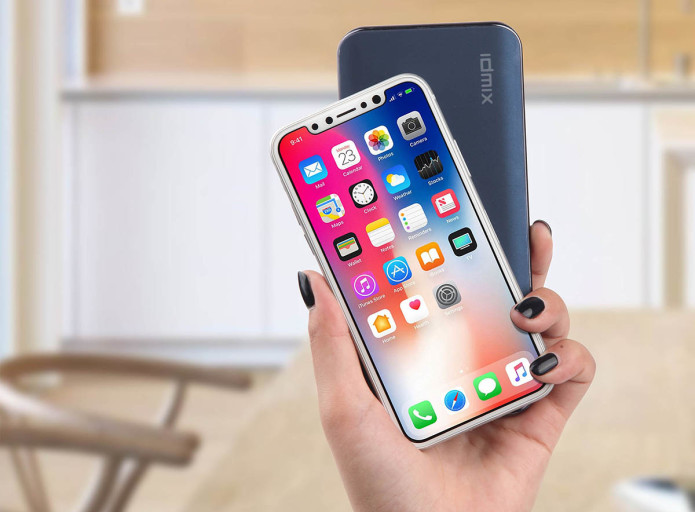 Built with 10W (the highest watt output in a power bank) charging capability and to the WPC Qi standard, IDMIX offers you the fastest wireless charging for Android and iPhone. Just leave your phone on-top IDMIX and it'll do the rest.

iPhone 8s and X will be able to charge 0-50% in just over 1 hour at 7.5W (the maximum Apple allows) while Androids will charge 0-50% in just under 1 hour at 10W.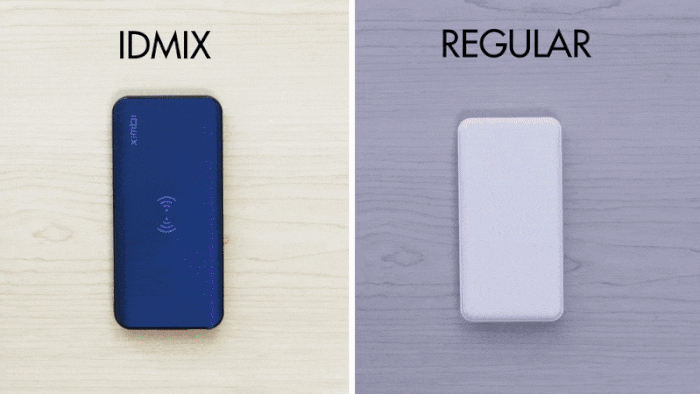 Using QC 3.0 and PD 2.0 wired charging, IDMIX brings your battery from 0 to 50% in 30 minutes, more than enough to last you a whole day on a single charge.

IDMIX's USB-C PD 2.0 (Power Delivery) capability charges iOS devices at unheard of speeds by providing 2x the performance of your outlet charger.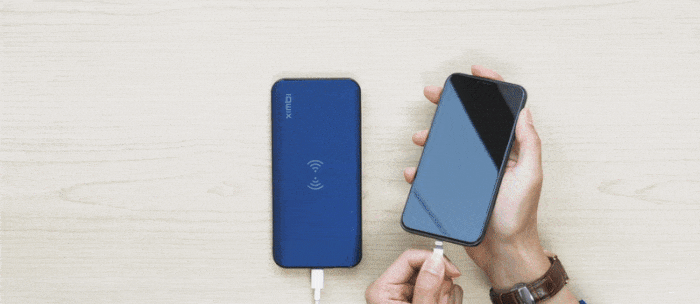 IDMIX uses QC 3.0 (Qualcomm Quick Charging) to charge your Android 4x faster than a conventional charger, bringing your device's battery to 80% in 35 minutes.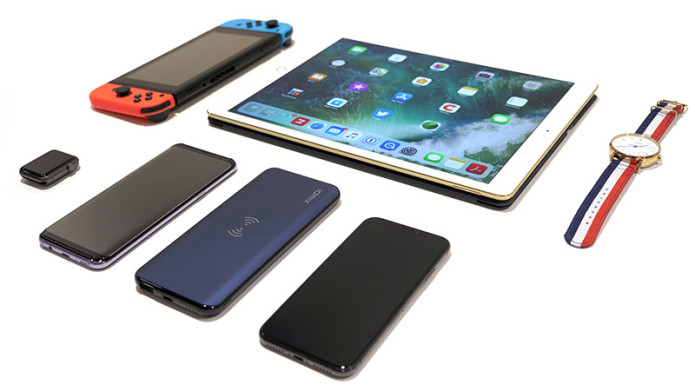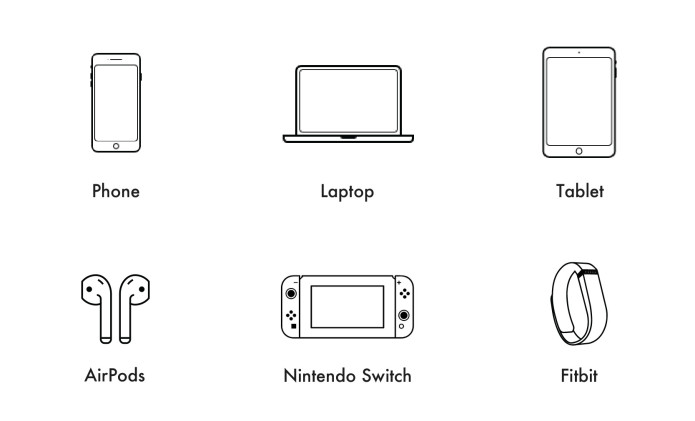 IDMIX bridges the gap between iOS and Android charging by offering wireless and wired PD2.0 charging to certain Android devices and the iPhones 8s and X.
Acting as perfect power bank for all your devices, IDMIX brings you a 8000mAh capacity (18,000mAh for the Monster Version) allowing you to charge every devices multiple times before the IDMIX's own battery depletes. And the best thing? It charges at exceptional speeds itself; it's own battery charging fully in just 2.5 hours!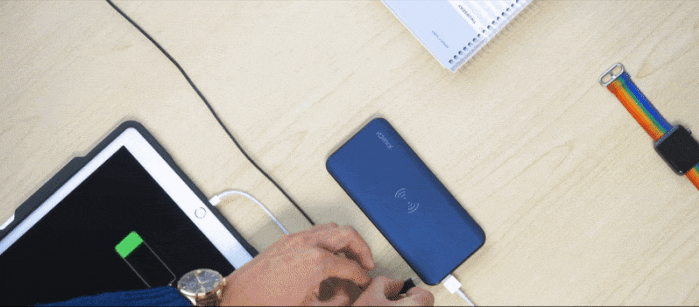 IDMIX Slim's (8000mAh) dual USB ports and Qi wireless charging allows you to plug in two devices and charge a third wirelessly at once. The IDMIX Monster (18,000mAh) lets you charge 4 devices simultaneously, from smartphones to Tablets and Laptops to your Nintendo Switch.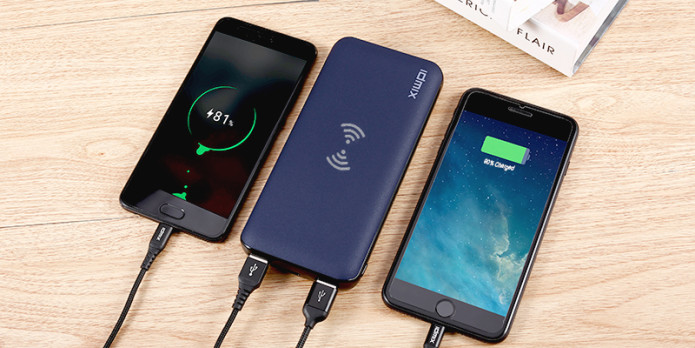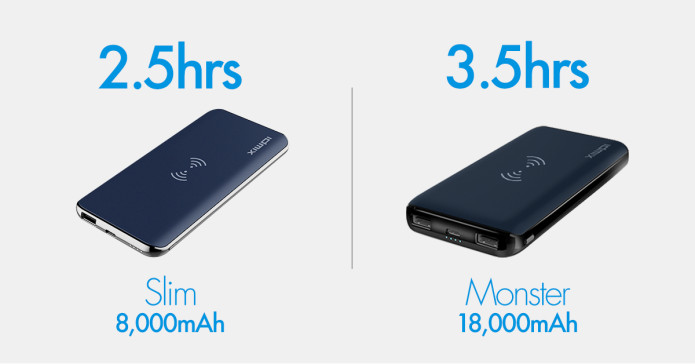 Recharge your IDMIX Slim fully in just 2.5 hours with QC 3.0 charging at 18W of power. You can also recharge your IDMIX Monster fully in just 3.5 hours with a USB-C PD 2.0 connection at 30W.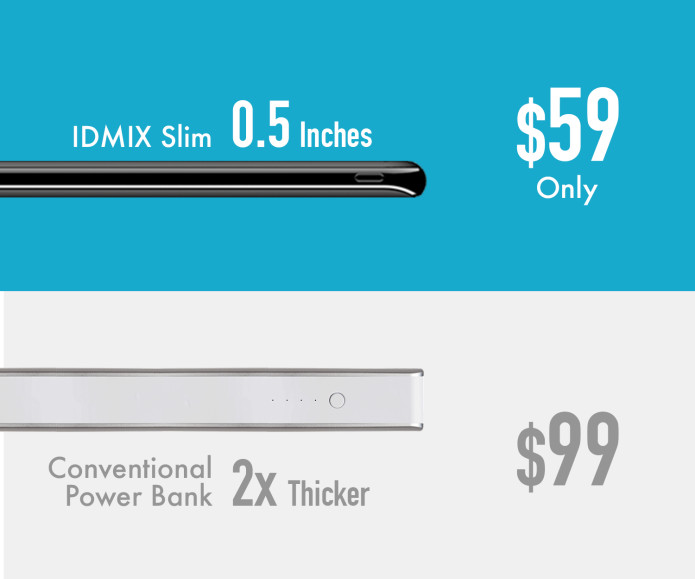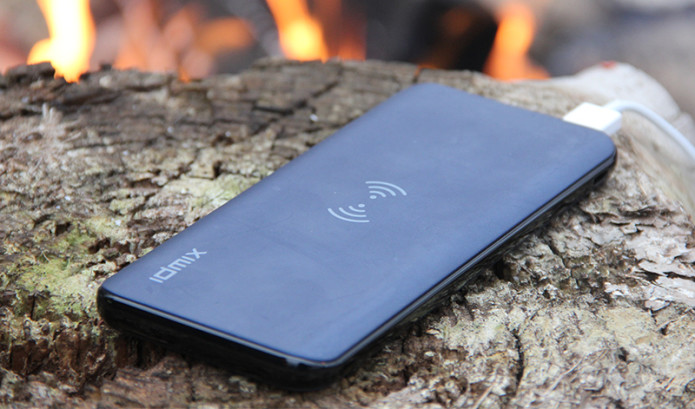 IDMIX is built from V0 ABS and PC Fireproof material to keep you and its battery safe. Furthermore, when using Qi, PD 2.0 and QC 3.0 charging technology you can always depend on IDMIX to deliver the fastest charge without overheating your devices or cables.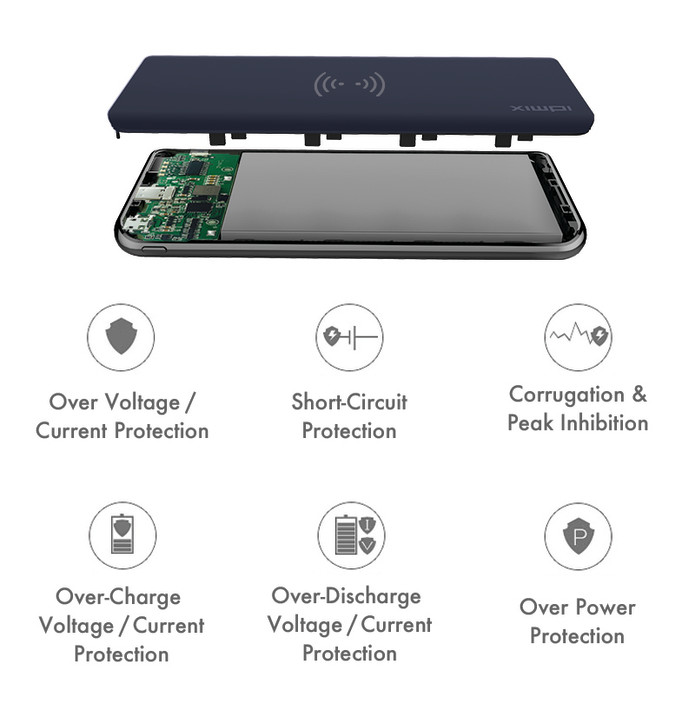 Pass-Through Charging and Overcharging

IDMIX also supports Pass-Through Charging, allowing you to safely charge other devices while IDMIX's own battery charges. You also don't have to worry about Overcharging as IDMIX is fitted with an internal control circuit to regulate the flow of electric current to shut the power bank down when it's fully charged.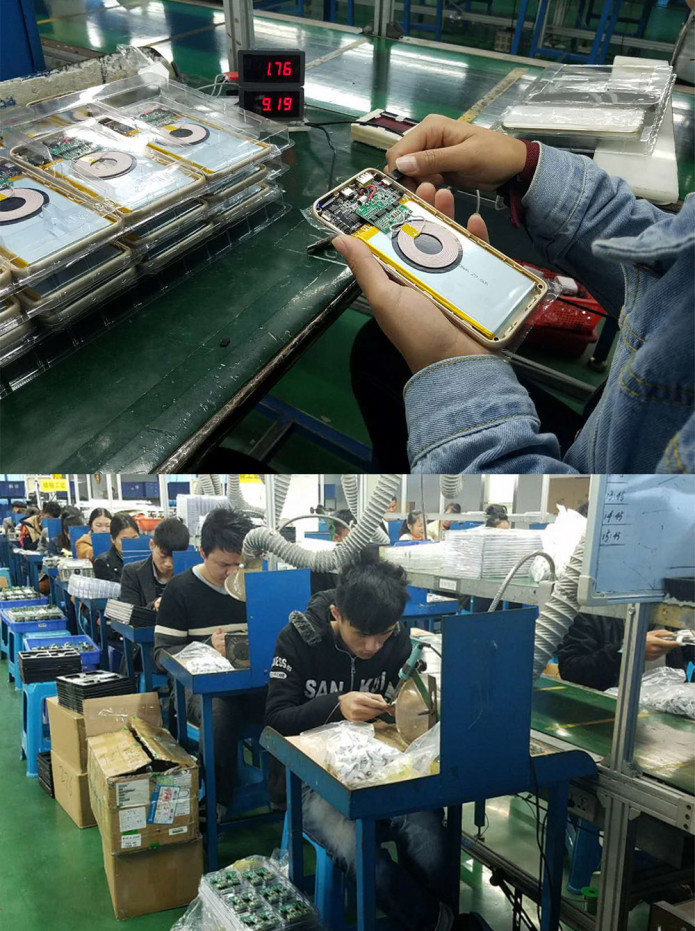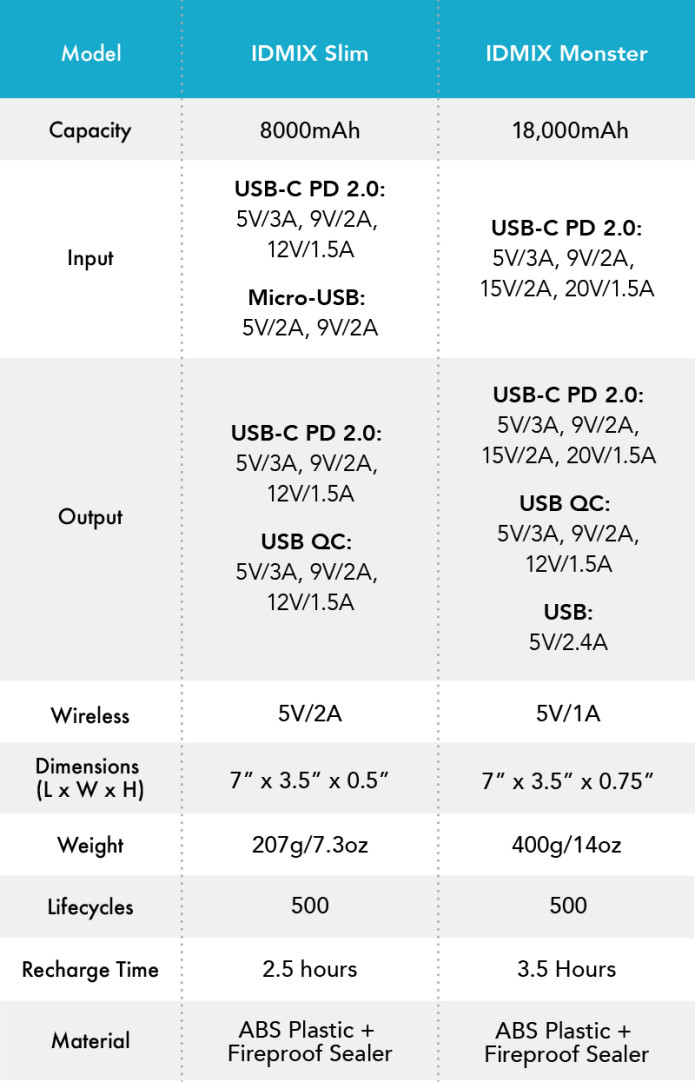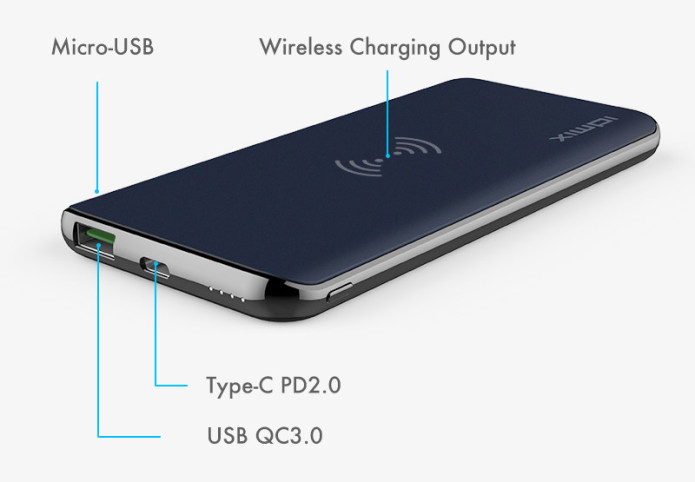 Using up to an 18W USB-C PD output IDMIX is able to charge your device 0-50% in 30 minutes. USB-C PD charging optimizes power management across devices, so each phone or tablet will only draw the power it requires to charge quickly. At 80% the device internally switches from Fast Charging to Normal Charging so as not to overcharge the battery.


IDMIX is built with the latest Qualcomm Quick Charging (QC 3.0) technology allowing it to charge your Android device 4x faster than a conventional charger -  it charges your Android phone's battery up to 80% in 35 minutes. QC 3.0 employs an intelligent algorithm to allow your portable device to determine what power level to request at any time to enable optimum power transfer.